What is Rotary?
Find out about Rotary in your Community and the World
We are 1.2 million neighbors, friends, and community leaders who come together to create positive, lasting change in our communities and around the world.
Our differing occupations, cultures, and countries give us a unique perspective. Our shared passion for service helps us accomplish the remarkable.
About Rotary Club of Ayr
Rotary Club of Ayr is making a difference locally and around the world and we are all having fun while doing it!
Ayr Rotary is made up of volunteers who carry out humanitarian work around the globe. Teams conduct short term exercises, have predetermined and agreed goals and ensure that projects are sustainable. Rotary combats Poverty, Neglect, Hunger, Water Shortages and Contamination, Poor Housing, Inadequate Medical Attention and Supplies, Disease, Discrimination, Ignorance and Poor Reading and Comprehension Skills.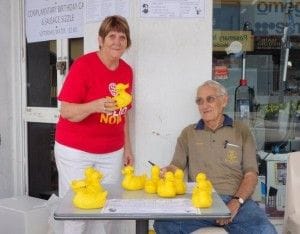 Rotary does all of these good deeds and more
Rotary creates approved Overseas Projects
Gives clean and continuous Water Supplies
Protects Islanders from Malaria and reduces death rate
Conducts Literacy programs
Teaches communities vocational skills and helps them be self sufficient
Builds Libraries, Houses, Warehouses, Schools
Gives Medical Assistance
Rotary Club of Ayr Inc.
Meetings
Visitors Welcome
Meeting Venue: Ayr Anzac Memorial Club, 101 Burke St, Ayr
Meeting Time: Thursday 6:15pm for 6:45 start
Postal Address: PO Box 931, Ayr 4807
Membership: Currently Open
Contact:
Website: www.ayr.rotaryaust.org