Explore the Burdekin

Just an hour's drive south of Townsville, you can discover the friendly residents and laid-back atmosphere of the Burdekin.
The Burdekin district is the sugar capital of Australia and is one of the most prosperous rural communities in the country. The shire's two main towns of Ayr and Home Hill make great stopover points, with their tree-lined main streets, ease of parking, great cafes and restaurants, host of specialty stores, shady parks and excellent public amenities.
Ayr and Home Hill lie just 12km apart and are linked by the landmark Burdekin River Bridge. Also known as the Silver Link, the 1103 metre bridge is the longest of its type in Australia. Although it took hundreds of men 10 years to build, not a single life was lost in the construction.
The Burdekin is becoming more and more famous for its wealth of water. Local farms are drought-proof because of the mighty Burdekin River, the huge reserves of the Burdekin Falls Dam and a massive underground aquifer which lies just 10 metres below the surface.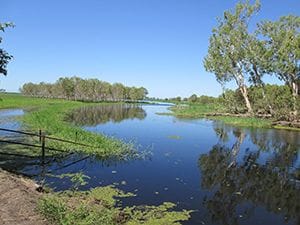 This 'liquid gold' allows Burdekin farmers to produce the biggest and sweetest sugar cane in Australia, as well as mangoes, melons, capsicums, zucchinis, tomatoes and many other small crops.
By far the district's greatest claim to fame is its fishing. The Burdekin is well-known for its barramundi, mudcrabs, other estuary species and off-coast reef fishing. The district has one of the highest rates of boat ownership per head of population and many locals have fishing huts at Ocean Creek, Plantation Creek, Groper Creek or Wunjunga.
Find out about the Burdekin Shire. What it has to offer, what there is to do and see, where to visit and how to explore our beautiful part of Queensland. Discover our heritage and how the Burdekin has grown to offer our residents and our visitors a truly amazing experience full of shopping, fishing, farming and relaxing.
Burdekin Regional Profile
T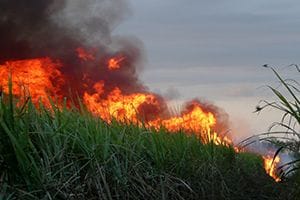 he shire's main towns of Ayr and Home Hill are just 12km apart and are linked by the landmark Burdekin River Bridge the longest bridge of its type in Australia. A CBD revitalisation scheme injected new life and beauty into Ayr and Home Hill, with new footpaths, shade structures, trees, gardens, public art works and rest points. Both towns make great stopover points, with their ease of parking, relaxed pace, good cafes and speciality shops.
Apart from its relaxed lifestyle, the Burdekin is famous for its fantastic fishing, unspoilt beaches and spectacular wetlands. Drop into the Visitor Information Centres at Ayr and Home Hill for more information on these and other attractions.
Area
5053 sq kms.
Location
Latitude 19 degrees South
Regional Profile Reports
Generate an up to date regional profile at the Queensland Office of Economic and Statistical Research web site. This profile will provide residents, businesses and visitors with up-to-date statistical information on the Burdekin Shire.
Local Climate and Weather
The Burdekin Region has a tropical climate, with generally hot and humid summers and milder, drier winters.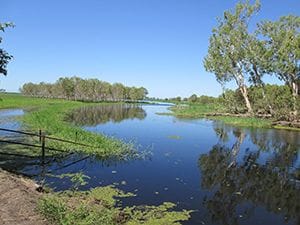 Seasons
The Region is characterised by two seasons the green (or wet) tropical summer season, which begins about November and ends about May, and the dry winter season.
Being a monsoonal climate, most rainfall occurs between January and March.
The cyclone season is normally confined to between December and April.
Marine Stinger Season
The Dangerous Marine Stinger season typically runs from November to May (subject to seasonal variability).
Temperatures
The Burdekin region has fairly uniform temperatures throughout the year. Typical daytime temperatures range from 14-26C (52-78F) in mid-Winter/dry season, and 24-33C (75-91F) in mid-Summer/wet season.
For current weather observations and reports for the Burdekin Area, visit the Bureau of Meteorology website.
View additional information about the weather for the Lower Burdekin region on the Burdekin Shire Council website.
Beaches
Alva at Lynch's Beach
The 17 kilometer drive from Ayr to Alva passes several wetland sites with abundant birdlife. An excellent area for fishing, birdwatching, fauna, swimming and sailboarding.
The Cape Bowling Green Lighthouse site can be accessed by walking north along the beach. There is limited shade and no facilities at the site.
Yongala Dive Scuba Dive at one of the best dive sites in the world Yongala Dive offers Dive Courses, accommodation and also a Dive Shop. Ph: 07 4783 1519 for more information.
Caravan Park
Toilets/Showers
Picnic Area/Barbecues
Playground
Parking
Beach Access
Beachmount Wunjunga
The turnoff to Wunjunga is about 6km south of Inkerman. The road from the highway to Wunjunga is gravel and the drive is a bird enthusiast's dream. The fishing, the flora, the fauna, the beach, the Aboriginal middens and the houses built on huge granite boulders makes Wunjunga an interesting spot to visit.
Toilet
Parking
Beach Access
Camping
Boat Ramps
Council maintains eight boat ramps located within the shire on behalf of Queensland Transport. These boat ramps are located at Cromarty Creek, Barramundi (Morris's) Creek, Barratta Creek, Ocean Creek, Plantation Creek, Hell Hole, Groper Creek and Wallace Creek.
Requests for upgrades or general maintenance of individual boat ramps can be made by contacting the Customer Service Centre using one of the following methods.
See the Burdekin Shire Council website for more information.
Libraries
We have two libraries in the Burdekin Shire. The main Burdekin Library is at 108 Graham Street, Ayr and the Home Hill Branch Library is at 77-79 Ninth Avenue, Home Hill.
Markets
Markets are held on the first and third Sunday of every month at Plantation Park.
First Sunday conducted by Ayr State Primary School P&C. Contacts: Ayr State Primary School (4790 3333).
Third Sunday conducted by Vietnam Veterans Association Burdekin Sub-Branch. Contacts: Don Bailey (4783 6627).
Parks, Gardens & Leisure Facilities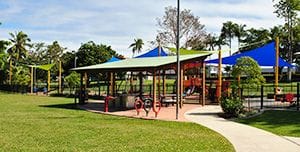 Burdekin Shire Council provides a diverse range of facilities, including parks and gardens with BBQ and picnic facilities, public swimming pools, sports parks and playgrounds, for the whole community to enjoy recreational, sporting and leisure pursuits.
Parks in the Burdekin:
Anzac Park, Macmillan Street, Ayr
Railway Park, Railway Street, Ayr
Coutts Park, Beach Road, Ayr
Loco Park, MacKenzie Street, Ayr
Plantation Park, Bruce Highway, Ayr
Rossiters Hill Park, Bruce Highway, Ayr
Gordon Street Park, Gordon Street, Ayr
Alva Beach Park, Sandowns Street, Alva Beach
RSL Park, Tenth Street, Home Hill
Arch Dunn Memorial Park, Tenth Avenue, Home Hill
Fruit Tree Park, Bruce Highway, Home Hill
Lions Park, Bruce Highway, Home Hill
Lloyd Mann Park, Eighth Avenue, Home Hill
Watson's Green, Ninth Street, Home Hill
Ashworth Park, Eighth Avenue, Home Hill
Ford Park, First Street, Home Hill
Spiller Street Park, Spiller Street, Brandon
Memorial Park, Spiller Street, Brandon
Brolga Park, Carey Street, Giru